Our History In Pictures
[Maine Coons] [Turkish Angoras]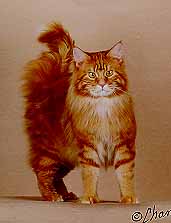 "Red" (no, I didn't name him) is a red classic tabby male Maine Coon Cat with handsome green eyes. He is a powerfully built, robust guy with the classically sweet, people-oriented attitude of the Maine Coon. He really enjoys being shown, and loves to clown with the judges. Doesn't he look wonderfully fierce in this shot, though? You can also take a look at him playing master of all he surveys, or this head shot, which looks much sweeter.
Red was bred by Valerie and Richard Horton of Mymains Cattery and is a Champion in both CFA and TICA. He is quite close to achieving his Grand Champion title in TICA, and has also earned grand points in CFA. He carries the dilute gene. You can view his pedigree if you're interested.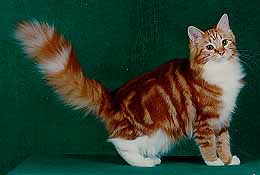 "Gremlin" is a red classic tabby and white female Maine Coon Cat. She is a very "busy" sort of cat -- likes to come and headbutt you, walk between you and your monitor, and lie flat on the desk to be petted. She is also quite chatty, more so than the typical Maine Coon, and tends to pass it to her children. Gremlin is a product of the first "Ambar" litter. Check out her pedigree.

Beauty is a daughter of Wendy and Cory, born 4 February 1997. She is a brown patched classic tabby and white female Maine Coon Cat. She is a magnificent adult, and was a beautiful kitten. You can check out her pedigree if you're so inclined.
Like most of our kittens, Beauty's name is a musical reference, in this case, to the Jane Siberry album. Beauty's philosophy, briefly stated, is that all fingers should be licked, any time is a good time to purr and HER tail is the BEST. Admire her. Or else.
Beauty is now gracing the premises (and licking the fingers) of Gina Greco-Emrich and Ernie Emrich, JavaCats Maine Coons.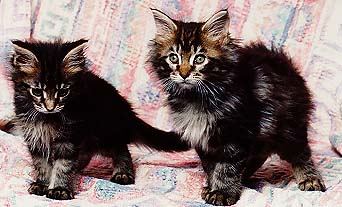 "Wendy" (cousin to "Cindy Lou Who, who's only two" -- or did your education lack The Grinch Who Stole Christmas?) is a brown classic tabby female Maine Coon Cat, born 6 September 1995. Wendy's dam is Dora, and her sire is Sundance.
That's Wendy the Exceptionally Cute on the left. (Her brother Buick, on the right, isn't half bad either. :-) While she is (like her half-sister Sass) the Wrong Color for a breeder of red tabbies, she was just too charming to let go. She is a dedicated finger-washer, and carries the solid gene.

[Home] [Cats] [What's New] [Available] [Brags and Tales]
---