Ambar Cattery
Maine Coon Cats & Turkish Angoras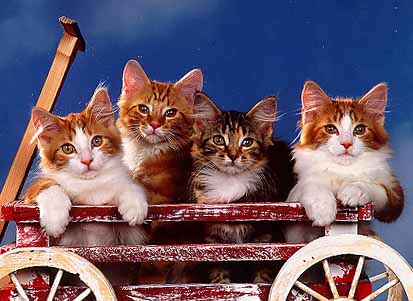 Shown from left to right: Ambar No Aloha, Ambar Cannonball, Ambar Little Libertine, Ambar Last Splash, Maine Coon Cats, shown at 3 months. Image Copyright © 1995 Ron Kimball Studios. All rights reserved.
At Ambar Cattery, we breed and show Maine Coon and Turkish Angora cats. Our cats are companions first and show cats second; born in our bedroom and sharing our home with us. We believe that the greatest value of the pedigreed cat to the pet owner is the reliably social and people-oriented temperament that results from careful breeding and socialization. Health is also a priority; our breeding cats are tested to ensure they are as beautiful on the inside as they are on the outside.
We're delighted to be able to share our cats with you online. You can read about our cats, check on available cats or kittens, view our success stories and brags, or catch up on a return visit and see what's up with upcoming shows and other events.
Ambar Cattery is a breeder member of the Maine Coon Breeders and Fanciers Association. We also belong to a number of CFA clubs, most notably Barbary Coast Cats and Online Feline Fanciers. We are founding members of the Fanciers mailing list, and members of the CFA Breed Council for the Maine Coon and Turkish Angora breeds.
[Home] [Cats] [What's New] [Available] [Brags and Tales]
---