What's New?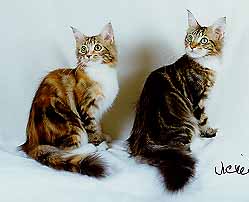 28 Apr 2001: Updated the brags page so that you can admire the marvelous Arnold.
13 Feb 2001: Updated the cats available page to show John-John, a red tabby Persian neuter. Updated the cats and history pages to show the current breeding cats; some links may still be broken. The brags page is still out of date, as GP Ambar Arnold Beckoff (a black & white Turkish Angora neuter) earned his Grand Premier title in September 2000. Eventually I'll find his formal pictures and test out my new scanner! Welcome back, huh?
If you're interested in finding out more about cat shows in your area (they're a great way to get a look at a number of different breeds at once, and meet some dedicated breeders), check out the list of show schedules on the Fanciers Web Site.
Ambar Is On Hiatus
In September 1997, I embarked upon a full-time school schedule in addition to my full-time job. The immediate result is that I have much less time to update web pages and show cats. :-( The longer-term result is that showing and breeding, on the schedule I've had to maintain, is simply not feasible. Our breeding cats have been leased out to friends in a couple of cases, or will be altered.
When school is over with, I anticipate returning to breeding and showing with increased enthusiasm, but right now I'm very pressed for time. I hope people asking for referrals and kitten information will understand when the replies come slowly if at all. :-)
[Home] [Cats] [What's New] [Available] [Brags and Tales]
---