CH,PR Kanab's Luanne's Dorable of Ambar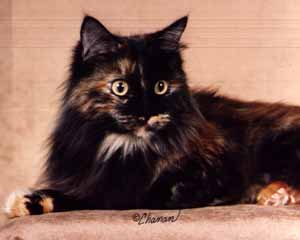 "Dora" is a tortoiseshell female Maine Coon Cat. She likes to sit on top of the computer monitors to supervise her person. She is very definitely "boss cat" of the household. Any kittens who haven't yet learned their place (not on her monitor, not on her rug, not on her couch, and not on her person when SHE wants attention) have to answer to Dora.
Dora produced many beautiful kittens for us, like Snickers, Wendy and Astro, but is now spayed and enjoying the life of the pampered retiree.

[Home] [Cats] [What's New] [Available] [Brags and Tales]
---
Jean Marie Diaz // ambar@clock.org Last modified: Fri Sep 19 18:04:03 PDT 1997