Our Cats
[Maine Coons] [Turkish Angoras]
"Dannie" is a red classic tabby female Maine Coon Cat with luminous gold eyes. While not very large, she is beautifully built, with a remarkably long body and very square muzzle. Her sire is CH Mymains Red Hot N Rollin of Ambar, and her dam is Mainelycats Lady Victoria of Wintersky. Photo to come.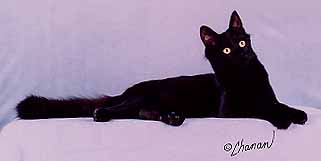 Angel, a black female, is a wonderful example of the sweet and spicy personality of the Turkish Angora. She likes to observe from high places (like atop the computer monitor), when she isn't outright "helping" (that is, dancing on the keyboard).
She has strong opinions about many things, which she shares freely. A small sampling:
I love to be cuddled, but for short periods of time, please.
Being combed is wonderful, but don't comb my tail backwards!
Don't just sit there, pet me!
Angel was (okay, a small brag) the best Turkish Angora kitten at the 1996 CFA International Show. She was bred by Charmaine Wickett and Susan Hearn of Galatia Cattery.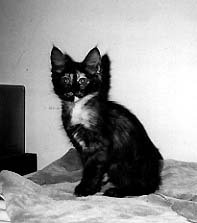 Torchy is a beautiful example of an uncommon color -- tortoiseshell smoke. Her personality is so like Angel's that they could be sisters, although they are a little different in looks -- Torchy has a longer coat, and a somewhat slimmer build. Torchy firmly believes that the job of the humans in her life is to keep her furry little body warm, by whatever means she deems necessary (a surprise leap from the floor to an unsuspecting human's shoulder is a favorite).
She was bred by Iris Tanner of Silverlock Cattery. Her cats are renowned for their gorgeous temperaments, and Torchy certainly shows why. She is pictured at roughly ten weeks.

[Home] [Cats] [What's New] [Available] [Brags and Tales]
---