Kittens and Cats Available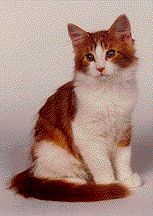 A typical Ambar kitten: Splash, shown at twelve weeks.
It Takes More Than Money To Buy An Ambar Cat
Our cats are not for sale to the highest bidder, or even to the first person to meet the asking price. These are cats that we have loved and cherished during their lives with us, often from their birth. You'll need to convince us that you are prepared to be lavish with your affections and responsible in your care.

If, at this point, you're thinking "What, is the woman neurotic? We're just talking cats here, not the Hope Diamond", then you are absolutely right. The woman is neurotic, you don't want any of her cats, please turn to the next page as rapidly as possible. :-) If, on the other hand, you're nodding your head in understanding, you'll want to know the following things:
Ambar cats are guaranteed to be FeLV/FIV negative.
Ambar cats are guaranteed to be healthy at the time of sale.
Ambar cats are fully vaccinated against FVRCP.
Ambar-bred cats carry an additional guarantee against death due to genetic defects. We regret that we cannot offer this guarantee on cats we did not breed.
There are certain things you, as a purchaser, would have to agree to as well. These guarantees, conditions and agreements are documented in a sales contract, which both purchaser and seller sign.

Shipping costs, if any, will be covered by the purchaser.

I have no Turkish Angora or Maine Coon kittens available currently. Please visit MCBFA for Maine Coon breeder referrals, or the Feline Breeder Referral List for all breeds.
Cats Available
Altered adults are available to exactly the right home. (Which is to say, you may choose a particular cat, but the cat must also choose you. :-)
John-John is a red tabby Persian neuter, who came to us as part of a rescue of some 30 cats in the Southern California area. He is very sweet, healthy, easy to groom, good bathroom habits, doesn't push around the other cats. He does need the committment to regular grooming and bathing (or a regular clipping) that any Persian would. He can take care of himself in a group of cats, but I think would benefit from more lap-time; a Persian-experienced home with someone in it nearly all the time (whether retired or working at home) would be ideal for him.
Why an Adult Cat?
Like most breeders, we occasionally have an altered adult, retired from our showing and/or breeding program, who is available to the right home. These cats are generally easy-going and adjust quickly to their new families. They cost substantially less than a kitten of similar quality, but have the same loving dispositions and tremendous personalities.

For consideration (or answers to your questions), drop me a line at ambar@clock.org.

[Home] [Cats] [What's New] [Available] [Brags and Tales]
---
Jean Marie Diaz // ambar@clock.org Last modified: Tue Feb 13 08:15:08 PST 2001