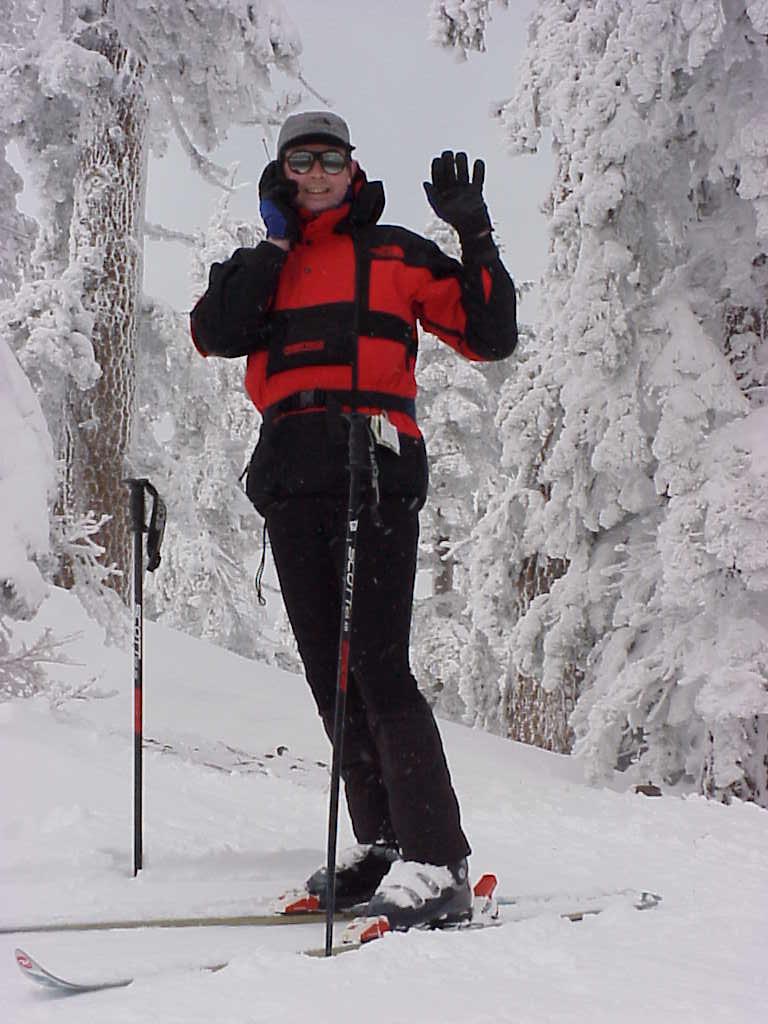 A lovely day in January 1999 on top of Mount Pluto at Northstar at Tahoe, as I stand on my old 207cm Rossignol 4S skis, chatting on my cell phone with someone who called me with good news; my friend Bill decided this scene was worthy of preservation for the ages. Click on it for the full 1024x768.
Mostly, I'm a night owl - stay up late, sleep late. One of my favorite quotes from the UNIX "fortune" file is
"Dawn - a time when men of reason go to bed."
Skiing is one of the few things that I will get up early (even before the sun!) to go and do, because there is something about the clean mountain air, the incredible scenery, the vigorous exercise at hypoxia-inducing altitudes that is just compelling for me. Or perhaps this is an excuse to get completely away from the frantic life in the Silicon Valley for brief periods of time.

In short, I love to snow ski.

I'm certain that this is my parents' doing, both genetically (she's Norwegian - they invented the sport; he was a California ski bum in his youth) and by indoctrination (my siblings and I were put on skis before we were ten years old). One of their "hot dates" while they were courting was the 1960 Winter Olympics, held at Squaw Valley, California.

I have some idea what that must have been like, because I attended the last week of the 1994 Winter Olympics in Lillehammer, Norway while I was on sabbatical from work (I had a blast! The Winter Olympics should be held in Norway at least every decade).

I've been skiing since I was eight or nine years old. I'm even moderately good at it, though it gets harder every year because I fall into a sedentary pattern in the summertime. I've got to fix that one of these days...

Well, I'm not entirely sedentary during the summer - I go water skiing when the opportunity presents itself.
Key to the business of skiing is the weather, which I track carefully because a bad storm in the Sierra Nevada (or in any mountain range) can be a killer. It also helps that there are web cameras mounted in strategic places, so you can double-check the weatherman with a look out the virtual window.
Always carry tire chains, even for that 4x4 SUV you've got, and remember: 4WD SUVs don't stop any quicker on the snow than any other vehicle.